09.12.2022
All news
The Tolk Energy Group and the Swiss Aid to Ukraine Association agree to support the project "Do good deeds!"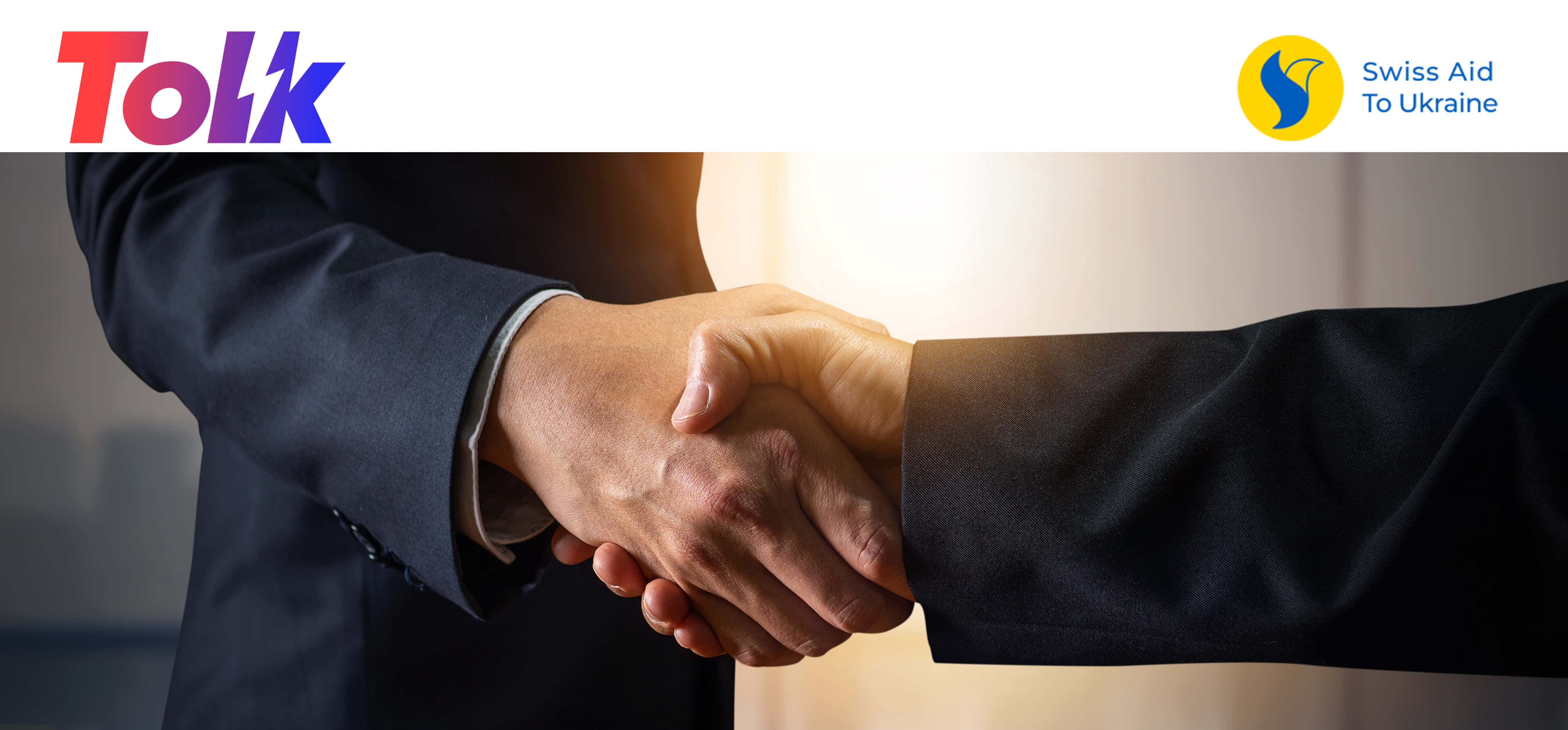 The Tolk Energy Group and the Swiss non-profit association Swiss Aid to Ukraine have signed a memorandum of cooperation. They agreed on further support for the "Do bright things!" project to pay off electricity bills. Among those in need of assistance are the families of fallen soldiers, large and low-income families, and the elderly.
"In cooperation with the Tolk Group, the Swiss Aid to Ukraine Association aims to raise awareness of the difficulties of people living in Ukraine this winter and support the most vulnerable families in paying utility bills, purchasing generators and heaters," said the president of the association, Lana Sobolevska.
The "Light Affairs" project was launched by the Tolk Group in October 2022. Its main goal is to provide an opportunity to pay the debt for electricity for any Ukrainian families who need this help. In the first weeks, more than 400 people joined the initiative and have already covered electricity bills in the amount of over UAH 130,000.
"This project is our joint contribution to caring for Ukrainians in order to support our compatriots in these difficult times. Now, with the involvement of benefactors of the Swiss Aid to Ukraine Association, our initiative is becoming international. This means that there will be more people willing to join our project, and we will be able to help more people experiencing difficult times," stressed Volodymyr Krupko, CEO of the Tolk Energy Group.
Anyone can join the initiative "Do bright deeds!" All you have to do is find the "Do good deeds!" block on the main page of the tolk.ua website. You can then transfer funds to the personal account of the person you wish to support by using the "I want to help" button.
For reference:
Swiss Aid to Ukraine is a Swiss non-profit association that was created to assist people affected by the current humanitarian crisis in Ukraine. The organization provides direct, effective humanitarian assistance in the form of financial support of selected projects and causes in Ukraine as well as transports of humanitarian aid to Ukraine.
The Tolk Energy Group includes eight companies: Avgusta L.L.C., Zakarpattiaenergozbut L.L.C., Volynelectrozbut L.L.C., TOLK ZEZ L.L.C., TOLK VEZ L.L.C., Tolk Petroleum L.L.C., INTRA ASSETS S.R.L. (Moldova) and TOLK EU s.r.o. (Slovakia). The Tolk Energy Group has more than 900,000 satisfied consumers, a team of 400 professionals, about 4 billion kWh of electricity supplied and more than 3 million m3 of natural gas in 2021.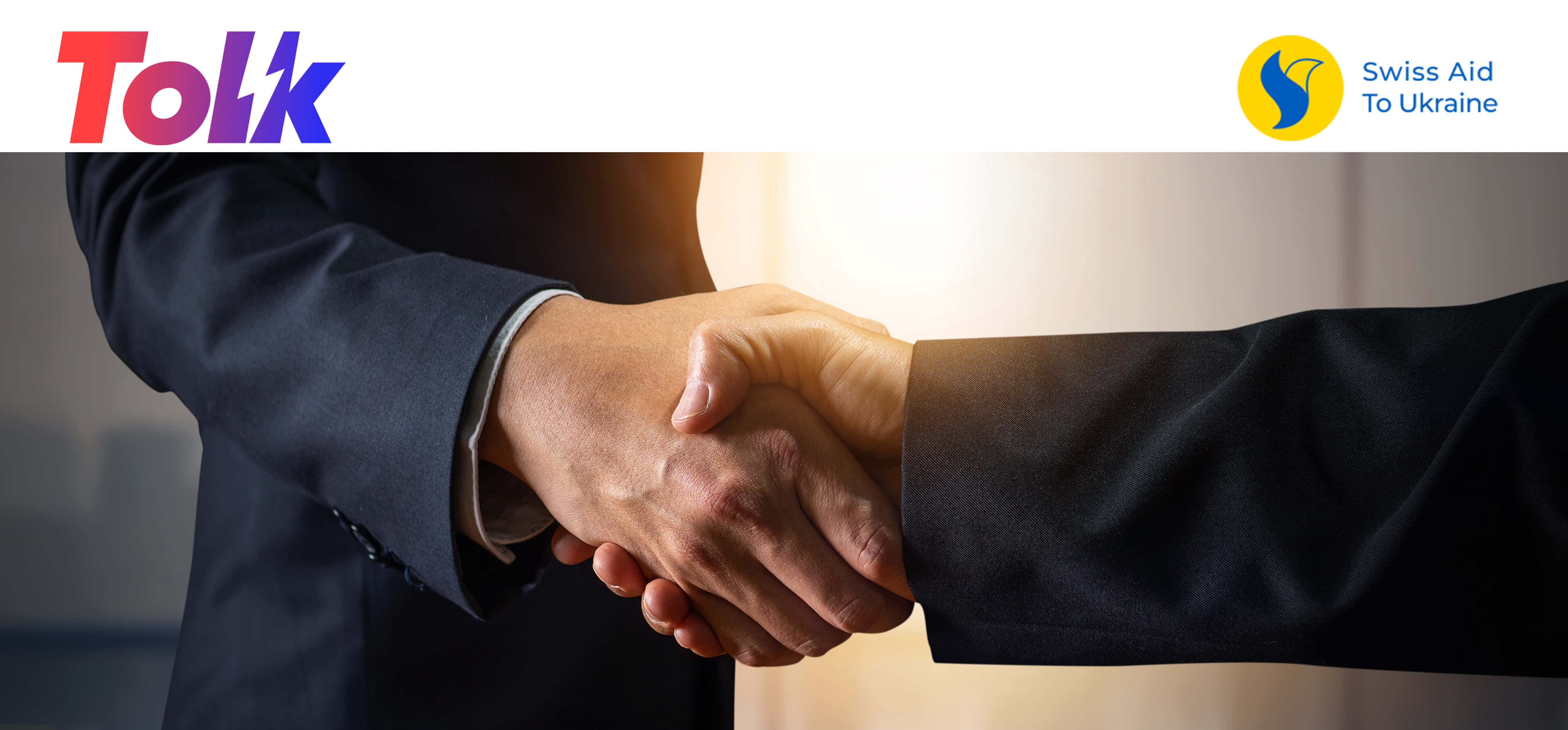 How to switch to Tolk?
Step 1
Select the desired tariff
Step 2
Necessary documents
Select the desired tariff
Get acquainted with the offers from Tolk and choose the most favorable conditions for you
Savings can reach
up to 30%
Necessary documents
To switch to Tolk tariffs, it is necessary to fill out an application for joining, provide a document confirming the authority of the person to sign the contract, an extract from the UDR, as well as the passport of the distribution point or the EIS code
Savings can reach
up to 30%
Contract
We strongly recommend that you read the supply agreement carefully. If you have any questions about its content, you can contact our technical support
Savings can reach
up to 30%